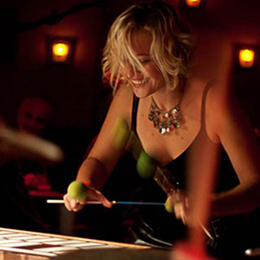 A widely respected performer, composer, and educator, Vessela Stoyanova is a triple threat on the Boston music scene.
Born and raised in Bulgaria, much of her original composition is inspired by the folk music of the Balkans, which has lent her a unique voice especially combined with her background as a classical percussionist and connoisseur of a variety of contemporary music styles. Vessela's own compositions have been recorded by numerous ensembles and performed at major New England area venues including the Berklee Performance Center, Jordan Hall, The Loeb Drama Center at the American Repertory Theater, Mechanic's Hall in Worcester, as well as at many smaller venues around the U.S. and Europe. Her String orchestra piece "Mountain Goats and Other Creatures" was scheduled for a performance at Carnegie Hall in New York City, but was postponed due to the COVID-19 pandemic.
As a performer Vessela combines virtuosic mallet technique with the world of electronics, using the rare "Marimba Lumina" — a sophisticated mallet MIDI controller. Currently she performs and writes for a unique project under the name of "Samodivi" with a personnel that ranges in size from a solo act to a 20 piece band. Vessela is also the co-founder and one half of Goli – a modern chamber music duo with long term collaborator Valerie Thompson. Previously, Vessela was the co-founder, marimbist and composer for .WAV, Fluttr Effect, Marimbira, and Bury Me Standing. She has also performed with the Jazz Composers Alliance, Odd Songs, and The Bespoke Consort, where she was often featured as a soloist.
Vessela holds a master's degree in Contemporary Improvisation from the New England Conservatory of Music. She is an associate professor at the Berklee College of Music, where she teaches Harmony, Marimba, and a Contemporary Balkan Ensemble. Vessela has given numerous clinics, focusing on the irregular meters of the Balkans and the use of live mallet-based electronics. She has been a guest lecturer at Tufts University, Cornell University, and Brown University. Vessela's philosophy of teaching matches her goals as a composer and performer: keeping students inspired to find the perfect balance between powerful yet intimate expression, and technical mastery.
Last but not least, Vessela is the assistant director for Aspire: Five Week Summer Performance Intensive at Berklee College of Music – a highly respected music program for young aspiring musicians that has been known to plant the seeds of a successful career in music, and which played an integral role in Vessela's own music career trajectory at the very beginning.
Before moving into Cloud Club, Vessela lived at an artist collective space called PAN9, where she co-curated shows and hosted a concert series of like minded musicians.